EXPLORE Los Glaciares and Torres del Paine National Parks with this slideshow, check the location map and get all the facts and information below.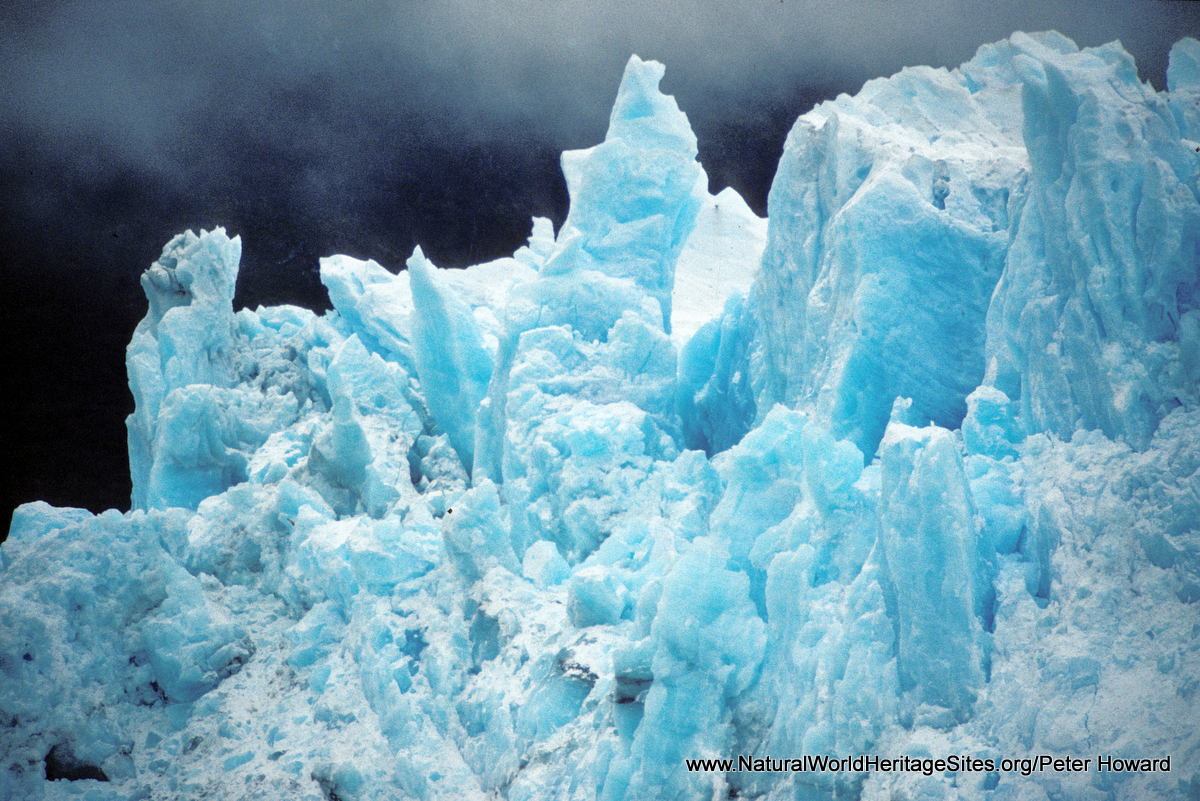 Los Glaciares National Park
Los Glaciares National Park
For slideshow description see right or scroll down (mobile).  Click to view slideshow
Location and Values: Los Glaciares National Park is located in the Patagonian Andes of southern Argentina, along the border with Chile.  As its name suggests, it is a land of icefields and glaciers (which cover about half the area), set within the spectacular landscape of towering rock peaks, glacial lakes, and wide expanses of the Patagonian Steppe.  It is an area of outstanding beauty, with remarkable landscape diversity over a range of elevation from 200m to the rocky peak of Cerro Fitzroy at 3,375m.  Its most well-known feature is the Perito Moreno Glacier, a 60m-high wall of bluish ice that feeds into Lake Argentino, constantly discharging massive icebergs into the murky water with a spectacular crash. Los Glaciares adjoins Chile's Torres del Paine and Bernardo O'Higgins National Parks, creating a protected area complex of impressive scale in this part of the Patagonian Andes.
Conservation Status and Prospects.  According to IUCN's Conservation Outlook Assessment (2017) the conservation status of Los Glaciares National Park is 'good, with some concerns'. The IUCN report notes that 'there are some concerns about mass tourism seasonally reaching excessive levels with tourism infrastructure starting to affect the landscape beauty (despite its location outside of the property for the most part). At all times, introduced species of flora and fauna have been having impacts on the ecosystem, with feral cattle being one of the more obvious examples. There is some concern over the effectiveness of fire management, anti-poaching law enforcement and tourism management. Moreover, hydropower dam construction outside the property could result in important impacts in the property, if it were to proceed.'
Links:
Google Earth
UNESCO Official Website
IUCN Conservation Outlook
UNEP-WCMC Site Description
Birdlife IBA
The slideshow 'tells the story' of Los Glaciares National Park, showing typical landscapes of this part of the Patagonia Andes, the main vegetation types and habitats, plants and animals. The photos were taken by Peter Howard in 1993, during visits to the Perito Moreno Glacier and the adjacent Torres del Paine National Park in Chile. Although the Torres del Paine is not part of the world heritage site it protects a very similar ecosystem and gives a good general impression of the landscapes and diversity of habitats, as well as typical animals of the Patagonian Steppe.  A remarkable image in the portfolio includes no fewer than nine Andean condors flying overhead. More recent photos will be available soon, so please come back again! And if you are in a position to contribute photos to update this page, please contact us!
Factfile
Website Category: Lakes, Freshwater Wetlands & Glaciers;
Area:  7,269 km2

Inscribed:  1981
Criteria:
Outstanding natural beauty (vii);
Geological features (viii);
You may also like to explore these other featured sites:-