EXPLORE THE MOUNT KENYA NATIONAL PARK/NATURAL FOREST with this slideshow, check the location map and get all the facts and information below.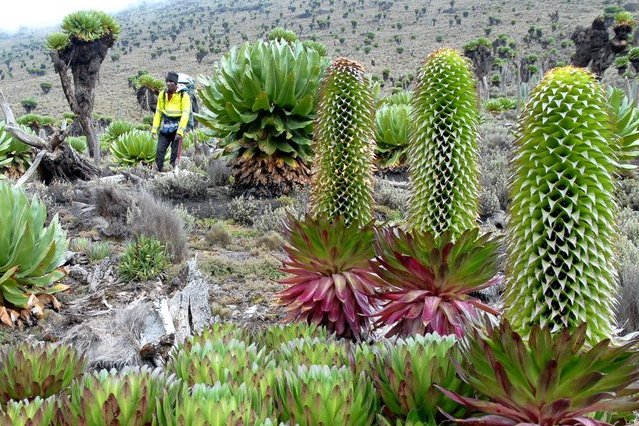 Mount Kenya National Park/Natural Forest
Mount Kenya National Park/Natural Forest
For slideshow description see right or scroll down (mobile). Click to view slideshow
Values: Mount Kenya is an ancient extinct volcano and Africa's second highest mountain (5,199m). With its rugged ice-capped summits and cloud-forested middle slopes, it is one of the most impressive of East African landscapes – arguably more spectacular than the higher Mount Kilimanjaro. There are eleven remnant glaciers on the mountain, all receding rapidly, and four secondary peaks at the head of the glacial valleys. The evolution and ecology of its Afro-alpine flora provide an outstanding example of ecological processes and a wide range of rare and endemic species. A comprehensive review of the world heritage values of Mount Kenya National Park/Natural Forest is provided below, together with details of the area's conservation status and the threats it faces.
Other International Designations: MAB Biosphere Reserve
REVIEW OF WORLD HERITAGE VALUES: The specific attributes which qualify Mount Kenya National Park/Natural Forest for world heritage status can be summarised as follows:
Spectacular mountain scenery: Mount Kenya National Park/Natural Forest protects some of Africa's most spectacular mountain scenery, including Africa's second highest peak (Batian, 5,199m), 12 remnant glaciers, and an abundance of lakes, waterfalls and bog-filled valleys. Mount Kenya is an ancient extinct volcano, which probably reached a height of 6,500m during its formation 3.1-2.6 million years ago. Today, the jagged snow-capped peaks, glaciers and exuberant Afro-alpine vegetation create one of the most impressive landscapes in Africa.
Diversity of evolving habitats: There is a great diversity of habitats on account of the range of altitude (2,400 to 5,200m), equatorial location and high rainfall. Mount Kenya National Park/Natural Forest is particularly noted for its unique afro-alpine flora, which provides an outstanding example of ecological processes in an environment that is characterized by an extreme climate with 'summer every day and winter every night'. The forested lower slopes (below 2,400m) are not included in the world heritage site, but the vegetation zones of higher elevations (bamboo, tree heather, Afro-alpine and Nival zones) each has its own special characteristics and associated plants and animals. This altitudinal zonation and diversity is the product of ongoing ecological interactions, and is in a continuing state of change in response to the erosive force of water and ice, and climate change.
Rich montane flora, with many endemic species: Mount Kenya National Park/Natural Forest has a rich montane flora, including many endemic species. The giant heather and Afro-alpine vegetation zones that extend from around 3,500m to the snowline (at around 4,400m) represent the rarest vegetation types on the African continent. Prominent constituents of this extraordinary vegetation are several endemic (or near-endemic) giant groundsels (Senecio) and Lobelias. The forested lower slopes (outside the boundaries of the designated world heritage site) support a number of rare shrubs and the climber, Rubus keniensis.
Rare, threatened and endemic fauna: Mount Kenya is an Important Bird Area (IBA) with 53 of Kenya's 67 African Highland biome species, including the rare and threatened Abbott's Starling. It is home to 6 of the 8 bird species that are endemic to the Kenyan Mountains Endemic Bird Area. Mammals of global concern include elephant, bongo, black rhino (probably locally extinct) and a local race of the black-fronted duiker (Cephalophus nigrifrons hooki), as well as four globally-threatened small mammals. Two reptiles (a snake and a chameleon) are endemic to the high altitude zones of Mount Kenya National Park/Natural Forest and the nearby Aberdares, while another snake (Atheris desaixi) is endemic to Mount Kenya's forested lower slopes.
CONSERVATION STATUS AND PROSPECTS: The designated world heritage site is limited to the higher elevation parts of the Mount Kenya Ecosystem only (above the tree line at 2,400 m). It is an area that is 'buffered' from the intensively cultivated lower slopes of the mountain by a wide belt of protected forest. This ensures that it remains remote, inaccessible and relatively unaffected by human activities. The most significant threat to the scenic value and ongoing ecological processes (for which it was inscribed) is climate change. The mountain's glaciers are melting fast, and the characteristic altitudinal zonation of vegetation communities will inevitably shift in the medium-to-long term as the climate warms. Maintaining the conservation values of the Mount Kenya National Park/Natural Forest will require long-term protection of the entire ecosystem, with landscape connectivity to adjacent mid-elevation forests and other communities at lower altitudes.
MANAGEMENT EFFECTIVENESS: The remote and rugged nature of the terrain ensures a high degree of natural protection against unsustainable resource use, so the need for management intervention is limited. There is a good current management plan for the wider ecosystem, but little recent information on the level of its implementation.
REVIEW OF CONSERVATION ISSUES AND THREATS: The following issues represent specific threats to the ecology, conservation and values of Mount Kenya National Park/Natural Forest.
Climate change: Global warming is raising temperatures and melting Mount Kenya's glaciers, which are expected to disappear altogether with the next few decades. Climate change is likely to cause a general shift of vegetation zones to higher elevations reducing the area of the rare high-altitude Afro-alpine vegetation communities. There may also be an increased incidence of landslides and flooding if precipitation falls as rain instead of snow.
Staffing and Budgetary constraints: Although the area of the Mount Kenya National Park/Natural Forest site has a high degree of natural protection against human influence on account of its remote and inhospitable location at the very top of the mountain, a higher level of management intervention could improve its protection. The world heritage site has an area of approximately 1,420 km2, but it is not managed as a discrete unit. Instead, it falls within the much broader Mount Kenya Ecosystem (MKE) management unit (which covers an area about twice the size, and includes adjacent natural forest and forestry plantations connected via a narrow corridor to a low-lying savanna wildlife conservancy).
Ecological isolation: The Mount Kenya National Park/Natural Forest is 'buffered' from adjacent settlements by a 5-10 km wide belt of protected natural forest and plantations that lies outside the world heritage site, but the land beyond this (below about 2,000 m) is becoming more intensively settled and cultivated, eliminating previous landscape connectivity with nearby natural habitats, especially to the west (Aberdares), north-west (Laikipia plateau), north (Ngare-Ndare Forest Reserve, Lewa Conservancy) and north-east (Imenti Forest Reserve, Meru National Park). Thus historical migration routes of keystone species, such as elephants, have been lost.  Recent extension of the site to include a protected 'elephant corridor' as well as the Ngare Ndare Forest and Lewa Conservancy goes some way towards alleviating the problem of ecological isolation, but more needs to be done.
Poaching: Low-level subsistence hunting is carried out in the forested lower slopes, and to a lesser extent at higher elevations where its impact is limited due to the extremely rugged terrain and difficulty of capturing prey species.
Fire: Wild fires are a major problem and may be started accidentally or deliberately. As much as 10% of the natural forest (mostly outside the world heritage site) was lost to fire in 2012 alone. Deliberate fires are sometimes set by neighbouring communities in the hope of being allowed to cultivate the area affected once it has been destroyed by fire.
'Buffer Zone' Degradation, land excisions and changing land use: The forested slopes at elevations of 2,000 to 2,400 m (which lie outside the designated world heritage site but serve as a de facto 'buffer zone') have been significantly degraded through (i) conversion to forestry plantations, (ii) cultivation (which may be allowed on a rotational basis as a way of establishing forestry plantations) and (iii) land excision to satisfy growing land hunger (25 km2 at Ragati, Hombe and Sirimon were excised in 2001). Such degradation reduces the functioning and ecological resilience of the entire ecosystem. Other significant threats in the forest zones (outside the world heritage property) include illegal grazing, charcoal production, marijuana cultivation, illegal water abstraction and the spread of invasive exotic plants.
Human-wildlife conflict: Elephants cause significant crop damage in the intensively cultivated lands adjoining the forest, and small domestic stock are often taken by leopards.
Impacts of tourism: With some 20-25,000 visitors annually, tourism numbers to Mount Kenya National Park/Natural Forest are still low compared with Mount Kilimanjaro. Nevertheless some areas are affected by unsustainable firewood collection; litter and waste management; and trampling of vegetation.
Unsustainable use of minor forest produce: Minor forest produce, notably bamboo, natural fibres, mushrooms, honey and the like, make an important contribution to local livelihoods, but there is very little information to decide on sustainable harvesting quotas.
Links:
Google Earth
UNEP-WCMC Site Description
IUCN Conservation Outlook
Official UNESCO Site Details
Birdlife IBA
The slideshow provides a comprehensive overview of the Mount Kenya National Park/Natural Forest world heritage site, showing its spectacular mountain landscapes, wildlife habitats, plants and animals, threatened species, conservation management issues, local community livelihoods and some of the visitor facilities and typical hiking experiences.
Factfile
Website category: Mountains
Area: 1,420 km2
Inscribed: 1997
Criteria:
(vii) aesthetic;
(ix) ecological processes
You may also like to explore these other featured sites:-